About Us
We offer a full range of power washing and steam cleaning services including industrial, commercial, and residential. We offer our full services to Riverside, Temecula, Hemet, Perris, Moreno Valley, Rancho Cucamonga, Sun City, and Fontana, CA! 
We strive to provide our customers with the best customer service experience possible. We have been offering professional pressure washing services to Moreno Valley, CA and the surrounding areas since 2003! We want to make sure we always meet or exceed the customers needs. That's why we work with them every single step of the service to ensure quality. No job is ever too big or small! From rain gutter cleaning to roof cleaning, we do it all!
How We Started
JC (Jesus Christ) Enterprises d.b.a. JC Power Wash was founded by Michael A. Marquez in January of 2003. He specialized in the Pressure Washing field for 5 years prior to starting his business, founded on Christian Fundamentals. He prides himself in providing premium, honest, reliable, first-class customer service.
About Our Equipment
J.C.P.W's standard Pressure Washing procedure (also known as Steam Cleaning, Water Blasting, Mobile Washing, High Pressure Washing, or Power Washing) is designed to restore your surfaces as close to its' original appearance as possible. This procedure involves the thrust of up to 250° of hot water at 4000 p.s.i. Hot and tough enough to remove stubborn stains such as chewing gum, oil, rust, paint, mildew, algae, black mold, dirt, weather marks, tar, grease, bird droppings, graffiti and other contaminants. Where there is smog, people, traffic, and waste, everything gets dirty. Over time, with regular wear and tear, your business or building can look unappealing, which can ultimately cost you business.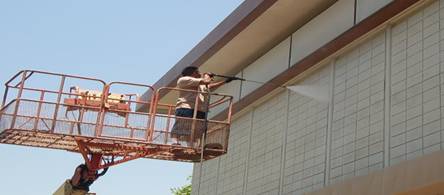 Our Staff
Our fully trained technicians come to your location at your convenience, day or night, and schedule to cause the least possible interference with your operations. Servicing areas include, but are not limited; Los Angeles, Orange, Riverside, and San Bernardino Counties. For competitive, low-prices, 365 days a year, contact us today for a free estimate. It's our guarantee that our work will be done to your specifications. Feel free at any time to bring to the servicemen's attention any questions or problems you may have. You do not pay, until you are 110% satisfied. We take all necessary precautions necessary, by adding personal care, to protect your property from damage and complete the work in a safe and timely manner. We'll be happy to clean your corner of the world!
Video

Service Areas

Orange County

San Bernardino County

Los Angeles County

Riverside County

Read More

We Accept All Major Credit Cards